A much needed update
We had the pleasure of supporting the University of Oxford's Department of Physics with their Drupal 7 site migration. With Drupal 7 nearing end of life, we redesigned their old site and created a dynamic, refreshed Drupal 9-ready site in its place to help transform their online presence.
As a department within the University of Oxford, it holds immense prestige as one of the best in the world. It was vital that our team helped to translate this global reputation into a professional, sleek solution.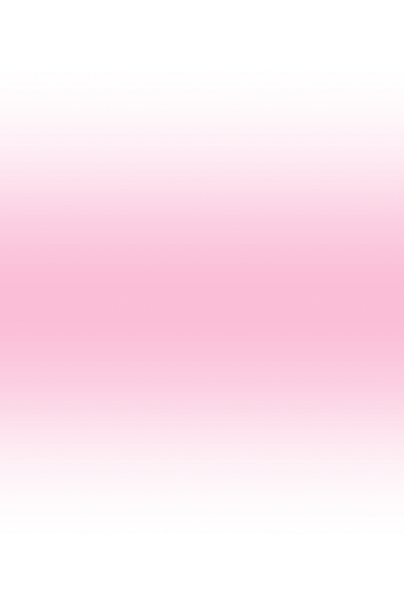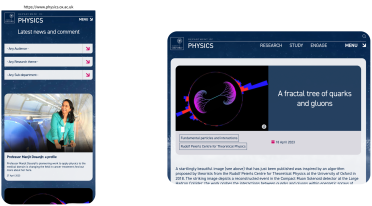 The department wanted a "brighter, modern and more vibrant look", and needed to adhere to the University's established brand guidelines. A new, refreshed site also provided the opportunity to build a better experience for the Department's site users.
The old Drupal 7 site was over 10 years old, and with end of life for Drupal 7 set for November 28 2022, creating a new site in the latest Drupal version was imperative. However, migrating a site from Drupal 7 to Drupal 8 or 9 is no small task, especially in the Department's case where the site required a number of third party integrations.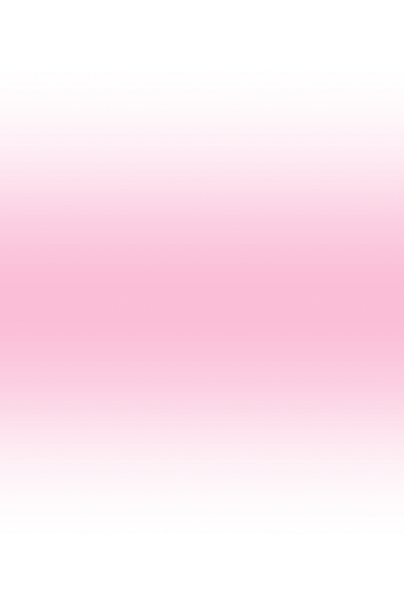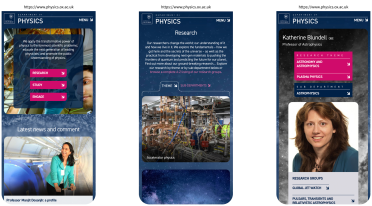 The project began pre-pandemic in 2020; we pitched two weeks before the first lockdown, and started the project once it was in full force. Thankfully, our team did a brilliant job of pivoting from office-based working to a 'new normal' of remote working, in order to keep the project moving forward at speed.
Our aim was to give the website a modern makeover, keeping the prestige and professionalism front of mind, without compromising on functionality and accessibility. We transformed areas of the site to provide better user experience, from the main navigation, to animations on interactive elements.
Throughout the build, we made sure the new site appropriately reflected the University of Oxford's brand image, accommodating a digital experience users would expect to receive from a globally-renowned academic institution.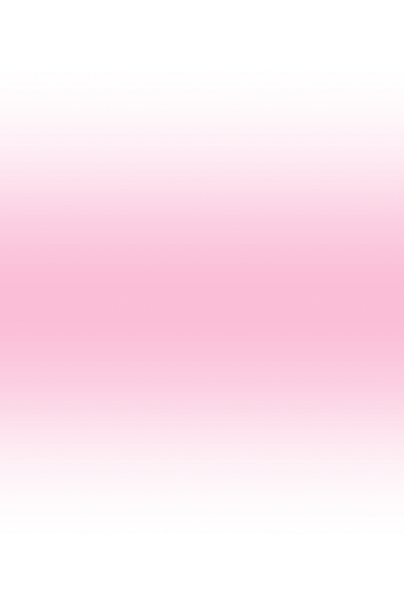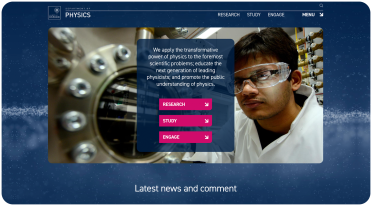 Integrations & accessibility
Integrating with university-specific systems and third party-tools was a key requirement for the Department's admin team. We integrated with multiple University of Oxford systems, such as Symplectic Elements (a system that holds details of Physics user's publications) and Single Sign On (which allows users to sign onto the website using their Oxford University details). Additionally, the site supports third-party tools to aid admin processes, such as the staff database and Active Directory authentication.
To ensure the Department's site could be accessed by all users, our design and UX team focused heavily on creating a user-centric, straightforward design. The updated navigation, for example, now provides a clear pathway through the site, accounting for three main user journeys:
Research (for students in the field)
Study (for prospective students)
Engage (for communities, organisations and alumni)
Throughout the site, the University's brand image is balanced with elements geared towards accessibility. We used a colour palette that includes University of Oxford brand guidelines, but added a contrasting splash of magenta to indicate interactive elements for improved user experience.
Drupal for education providers
For education providers, Drupal is a standout CMS choice; its open source enterprise-grade software allows for secure and flexible solution development. Our team's extensive knowledge of the platform means organisations can trust us to develop a solution that will provide measurable success.